2% Alpha-Arbutin Serum
Regular price

RM95.00

Sale price

RM89.90
An innovative blend of all powerful depigmenting agents that fades existing spots, lightens signs of discoloration, prevents future darkening and empowers antioxidant protection.
Lightweight, refreshing fluid formula
Fortified with vitamin C & B3, tran acid (TXA) and licorice root extract
Reverses spot formation & uneven pigmentation
Reduces inflammation for post-acne marks
Reveals purified, clean and luminous complexion
Jumbo -

60 ml

size
What makes this product unique?
Tyrosinase is a copper enzyme widely distributed in nature. Human tyrosinase is involved in the production of melanin, which causes darkening and pigmentation of the skin.
2% alpha-arbutin inhibits tyrosinase activity competitively at a non-cytotoxic manner. It also constrains melanosome maturation for dramatic improvement in general skin lightening. Skinlex does not stop at including just alpha-arbutin in this potent serum. Fortified with all reputable, research-proven skin-lightening ingredients to date (vitamin C, niacinamide, tran acid (TXA) and licorice root extract), Skinlex 2% Alpha-Arbutin Serum actively brightens skin tone, vanishes sun spots, age spots, liver spots, dark spots and post-acne marks, and prevents the appearance of new spots.
Supported with moisture-supplying sodium hyaluronate and vitamin B5, and redness-relieving allantoin, this serum brings all-embracing superior hydration, anti-inflammatory and firming benefits. Skinlex 2% Alpha-Arbutin Serum is packaged in an airless container that restricts air and light exposure for maximum potency of active ingredients and prevention of cross-contamination.
All Skinlex products are fragrance free, clinically proven to be non-irritating, and never tested on animals.
What does it do?
Formulated with a high concentration of multi-brightening complex, this serum can continually hinder tyrosinase production to keep your skin looking fair, bright and even tone all day long. Skinlex 2% Alpha-Arbutin Serum consistently restores skin's radiance and vigorously targets visible and unseen spots.
Who is this product for?
Ideal for any skin type, particularly impressive for anyone with concerns for uneven skin tone, dullness, spots and post-acne marks.
Water, Alpha-Arbutin (spot lightening), Butylene Glycol (penetration enhancer), Niacinamide (Vitamin B3, skin restoring), Magnesium Ascorbyl Phosphate (Vitamin C, skin brightening), Tran Acid (TXA) (skin brightening), Panthenol (Vitamin B5, hydration), Glycyrrhiza Glabra (Licorice) Root Extract (skin brightening), Sodium Hyaluronate (hydration), Allantoin (skin soothing), Glycerin (hydration), Xanthan Gum (texture enhancer), Citric Acid (food-grade pH Adjuster), Ethylhexylglycerin, Phenoxyethanol (anti-microbial agents)
Apply twice daily after cleansing, toning and exfoliating. Dispense a pea-sized amount and smooth over entire face and neck. May be applied to spots on the body skin.
Share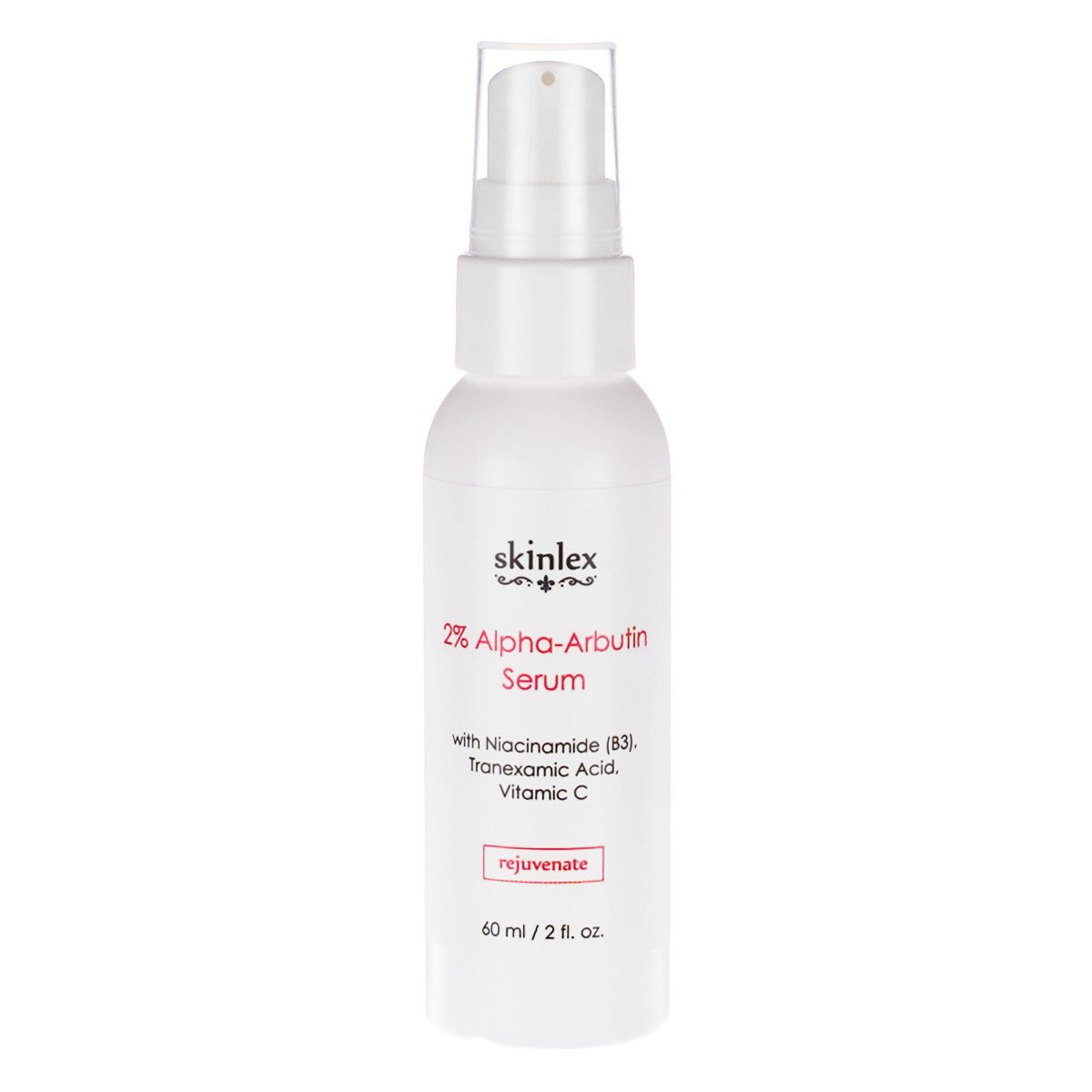 "Protect Your Skin And It Will Protect You Back"
Know Our Purposes
Science Driven

Research papers empower our cosmetic science knowledge. To find you the best products, we value facts over myths. We don't trust how beautiful an advertisement looks. We go directly to read the ingredient list.

Powerful lngredients

We partner with honest and transparent brands. Every product we carry for you contains effective ingredients in optimal concentrations the skin needs, nothing it doesn't.

Fragrance Free

With over 300 products here, not even 1 contains fragrance. We approve a product because it contains good ingredients. and bypass a product because it contains irritating agents.