RESIST Weightless Body Treatment with 2% BHA
Regular price

Sale price

RM155.00
White bumps. Little red bumps. Chicken skin. No more. This leave-on exfoliant is an excellent body treatment for skin concerns like Keratosis Pilaris. And it banishes the dreaded "backne".
Acne Breakouts, Anti-Aging, Keratosis Pilaris
For All Skin Types
2% salicylic acid reveals younger, hydrated skin
Antioxidants keep skin healthy and safeguarded
Ideal for those concerned with hard clogged pores on the arms and legs
Silky lightweight lotion feels beautiful on skin
What makes this product unique?
RESIST Weightless Body Treatment is truly a one-of-a-kind product! This anti-aging body lotion contains an effective amount of salicylic acid (BHA) formulated at a pH range (3.5-3.9) that allows the BHA to have superior exfoliating properties. As a result, it works to soften rough, bumpy areas, ease dryness, help clear breakouts from the neck down, stimulate collagen production and banish dullness for improved skin tone.
This lightweight, though exceptionally moisturizing, body lotion with 2% BHA is a completely non-abrasive, gentle way to shed built-up layers of dead skin, resulting in unbelievably smooth younger-looking skin from the neck down. It not only beautifully hydrates skin and softens dryness, but also significantly improves the appearance of hard clogged pores on the arms and legs.
Plus, this silky, lightweight moisturizer sets to a soft matte finish and is packed with proven antioxidants and potent anti-irritants to keep skin youthful and healthy. This specialized body product will reveal younger-looking skin with a renewed firmness, refined texture and fewer discolorations from sun damage.
What does it do?
RESIST Weightless Body Treatment 2% BHA works from the first application to visibly make rough, dry skin a thing of the past, significantly diminishing clogged hard pores on the arms and legs. Ongoing use banishes dullness and promotes resilient skin that's touchably soft and ultimately smooth.
Who is this product for?
RESIST Weightless Body Treatment is great for anyone who is prone to breakouts or struggling with signs of aging anywhere on their body. It is also extremely effective at relieving red bumps and rough areas on the body (keratosis pilaris). This silky body lotion also works to improve skin tone and texture, both of which contribute to a more youthful look.
NOTE: Those allergic to aspirin (acetylsalicylate) should not use products containing salicylic acid (beta hydroxy acid).
Journal of European Academy of Dermatology and Venerology, September 2016, issue 9, pages 1480-1490

Archives of Dermatology, August 2000, issue 8, pages 989-94

Molecular Medicine Reports, November 2010, issue 6, pages 895–901

Food Chemistry, 2010, volume 119, pages 643-647

Journal of Ethnopharmacology, September 2004, issue 1, pages 67-75

General Physiology and Biophysics, September 2013, issue 3, pages 347-59

Journal of Clinical, Cosmetic and Investigational Dermatology, 2015, volume 8, pages 455-461
Water, Butylene Glycol (slip agent), Cetyl Alcohol (thickener), PPG-14 Butyl Ether (thickener), Salicylic Acid (beta hydroxy acid/exfoliant), Tocopheryl Acetate (vitamin E/antioxidant), Chamomilla Recutita (Matricaria) Flower Extract, Epilobium Angustifolium (Willow Herb) Flower/Leaf/Stem Extract(anti-irritants), Camellia Oleifera (Green Tea) Leaf Extract, Cucumis Melo (Melon) Fruit Extract (antioxidants), Bisabolol, Allantoin (anti-irritants), Dimethicone, Cyclopentasiloxane, Cyclohexasiloxane, Dimethiconol (silicone slip agents/texture enhancers), PEG-40 Stearate (thickener), Sorbitan Stearate (emulsifier), Polysorbate 20 (solubolizing agent), PVM/MA Decadiene Crosspolymer, Polyacrylamide (film-forming agents), C13-14 Isoparaffin (thickener), Laureth-7 (emulsifier), Disodium EDTA (chelating agent), Sodium Hydroxide (pH adjuster), Hexylene Glycol (solvent), Caprylyl Glycol (preservative), Ethyhexylglycerin (skin-conditioning agent), Phenoxyethanol, (preservative).
Apply a small amount to clean skin. May be used daily for all-over smoothing, or applied as a spot treatment where needed. Apply this treatment first when using with an additional moisturizer. For daytime, follow with a broad-spectrum sunscreen rated SPF 25 or greater.
What's the difference between AHA and BHA exfoliants? Do I need both?
When properly formulated, both AHAs and BHA are brilliant options for exfoliating the surface of skin. You do not need to use both, but some people like alternating. Both AHA and BHA work to reduce wrinkles, stimulate collagen, and firm skin but each has its special qualities you'll want to consider when deciding which one to use: AHAs are preferred for sun-damaged and dry skin because they exfoliate on the surface of skin and have the added benefit of also improving moisture content. BHA is preferred for oily, acne-prone skin and for treating blackheads and white bumps because BHA can get through the oil that's clogging your pores, normalizing the lining of the misshapen pore that contributes to acne. BHA has anti-inflammatory and antibacterial action. Those are two more reasons to use a BHA exfoliant if you have acne or sensitive, reddened skin. Both AHA and BHA work to fight keratosis pilaris ("chicken skin") but BHA has the advantage due to its ability to penetrate the pore lining where these raised, red bumps begin. If your skin is sun-damaged and you're also struggling with acne or clogged pores, add a BHA product to your routine.
How does RESIST Weightless Body Treatment with 2% BHA differ from the Skin Perfecting 2% BHA Exfoliant?
The primary difference is with the base formula. The lotion base of Weightless Body Treatment with 2% BHA is silky and lightweight yet hydrating, and it contains several anti-aging ingredients to help skin from the neck down look and act younger. Paula's Choice Skin Perfecting 2% BHA Liquid, Gel, and 2% Beta Hydroxy Acid Lotion contains the same percentage of salicylic acid, but in different bases designed to work with other facial-care products.
Can I use RESIST Weightless Body Treatment with 2% BHA on my face?
Yes. In fact, some skin types may prefer the texture of RESIST Weightless Body Treatment with 2% BHA for facial use.
I am using Renova/Retin-A on sun-damaged body skin. Is it OK to use this with RESIST Weightless Body Treatment with 2% BHA?
There is no reason not to try and see if this works for you and you can always ask the physician who gave you the prescription their opinion. Renova and Retin-A have a completely different benefit for skin than BHA does but both are excellent for anti-aging skincare. BHA exfoliates built up dead skin cells on the surface of skin and in the pore, while the active ingredient in Retin-A and Renova is a cell communicating ingredient that improves the way skin cells are made in the lower layers of skin.
Share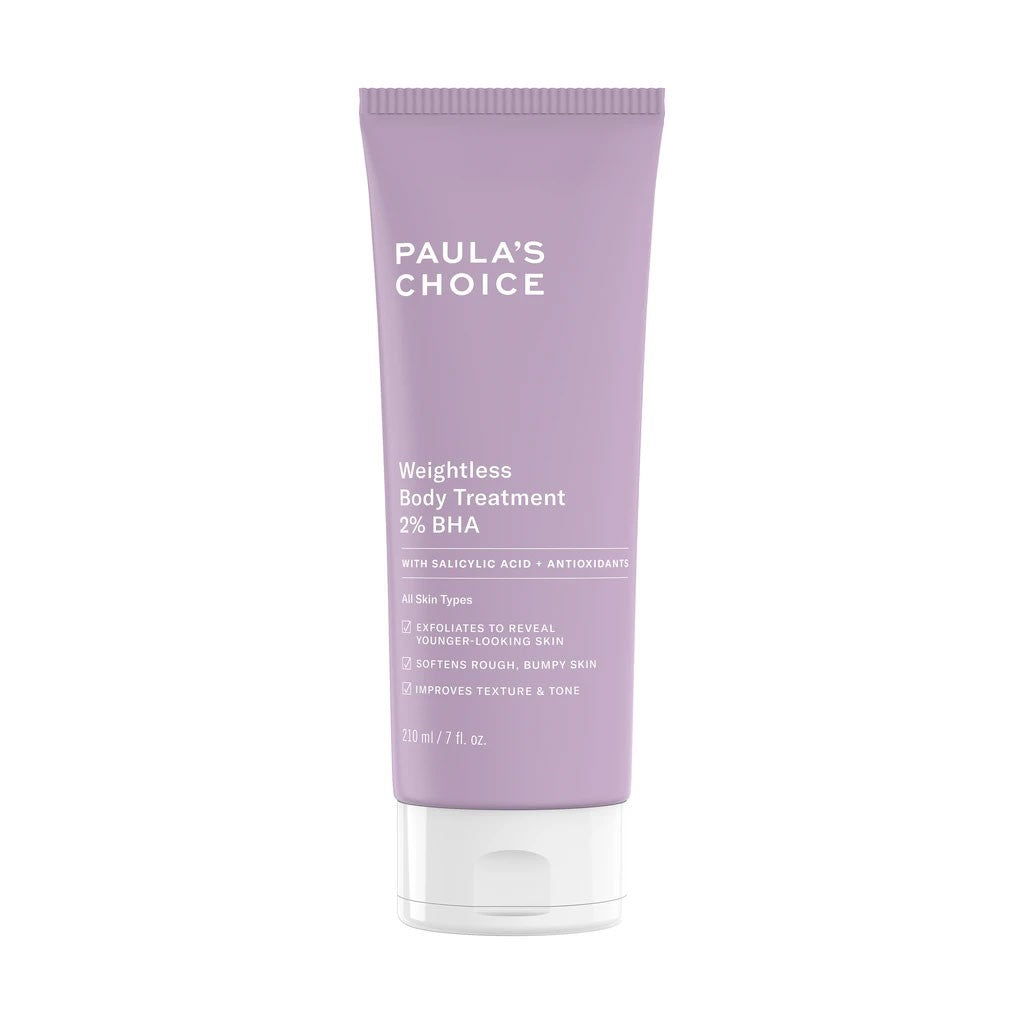 "Protect Your Skin And It Will Protect You Back"
Know Our Purposes
Science Driven

Research papers empower our cosmetic science knowledge. To find you the best products, we value facts over myths. We don't trust how beautiful an advertisement looks. We go directly to read the ingredient list.

Powerful lngredients

We partner with honest and transparent brands. Every product we carry for you contains effective ingredients in optimal concentrations the skin needs, nothing it doesn't.

Fragrance Free

With over 300 products here, not even 1 contains fragrance. We approve a product because it contains good ingredients. and bypass a product because it contains irritating agents.