RESIST C15 Super Booster
Regular price

RM255.00

Sale price

RM234.60
Brighten your complexion, fade brown spots and improve overall skin tone by adding a few drops of this supercharged, lightweight Vitamin C formula into your moisturizer or serum.
Anti-Aging, Brown Spots, Wrinkles
For All Skin Types
15% Vitamin C fades brown spots, firms & brightens complexion
Ferulic Acid boosts antioxidant benefits to defend against photo-aging
Water-light formula blends beautifully with any moisturizer or serum
What makes this product unique?
RESIST C15 Super Booster is a concentrated, light-as-water liquid treatment product designed to supercharge your Paula's Choice serum, or it may be used alone. A blend of 15% stabilized vitamin C (l-ascorbic acid) at a pH of 3.0, antioxidant vitamin E, ferulic acid, and peptides repairs visible signs of aging and stimulates collagen production for smoother, brighter, and firmer skin. 

Vitamin C also helps protect skin from environmental damage as it evens your skin tone. You'll see dramatically younger, healthier, and more radiant skin in weeks!
All Paula's Choice products are 100% fragrance free, clinically proven to be non-irritating, and never tested on animals.
What does it do?
RESIST C15 Super Booster is a concentrated, light-as-water liquid anti-aging solution to supercharge your skin, whether used alone or mixed with your serum or moisturizer. You'll see dramatically younger-looking and more radiant skin day after day.
Who is this product for?
RESIST C15 Super Booster is for anyone who wants to boost the results from their Paula's Choice serum or who wants to experience the benefits of vitamin C when combined with other proven anti-aging ingredients. The formula is suitable for all skin types and also appropriate for breakout-prone skin.
Biochemical and Biophysical Research Communications, January 2013, pages 579–584; Journal of Cosmetic Dermatology, December 2012, pages 310–317; Journal of Dermatological Science, June 2012, pages 216–220; Journal of Drugs in Dermatology, January 2012, pages 51–56; AAPS PharmSciTech, June 2011, pages 514–520; Expert Opinion on Drug Delivery, July 2011, pages 905–919; Archives of Pharmacal Research, May 2011, pages 811–820; American Journal of Clinical Dermatology, April 2011, pages 87–99; European Journal of Pharmaceutics and Biopharmaceutics, May 2009, pages 232–238; and Archives of Otolaryngology, October 1999, pages 1,091–1,098.
Water, Ascorbic Acid (vitamin C/antioxidant), Ethoxydiglycol (hydration/penetration enhancing), PPG-26 Buteth-26 (texture-enhancing), PEG-40 Hydrogenated Castor Oil (texture-enhancing), Tocopherol (vitamin E/antioxidant), Ferulic Acid (antioxidant), Sodium Hyaluronate (hydration/skin replenishing), Acetyl Octapeptide-3 (skin-restoring), Glycerin (hydration/skin replenishing), Panthenol (skin replenishing), Sodium Metabisulfite (stabilizer/antioxidant), Triethanolamine (pH adjuster), Phenoxyethanol (preservative).
Apply once or twice daily after cleansing, toning and exfoliating. Dispense 2-3 drops and add to your favorite moisturizer or serum. May also be used alone. For daytime, follow with a broad-spectrum sunscreen rated SPF 25 or greater. May be applied around the under-eye area. Avoid eyelids and lips.
For maximum potency, we advise using RESIST C15 Super Booster within three months of opening. For best results, use within six months from the date of purchase. Store in a cool, dark place, below 25°C (75°F). Keep out of direct light.
I received my C15 and the internal air restrictor isn't in the bottle—it's on the dropper. How do I insert it?
The internal air restrictor, as you noticed, is now packaged separately to reduce the likelihood of the bottle leaking during transit. There are two ways to insert it into your C15, and both are easy! Option #1: Remove the cap from your C15, insert the dropper (do not remove the air restrictor from the glass stem) and screw the dropper cap closed. The cap will appear to tilt unevenly, but keep screwing it down and the internal air restrictor will snap into place. All done! Option #2: Remove the cap from your C15, and then pull the air restrictor off of the glass stem of the dropper. Push the pointed end of the air restrictor into the open C15 bottle, applying pressure until it snaps into place. Once the air restrictor is secure, it will not come loose or fall out—and now your C15 is ready for use!
Can you tell me more about the RESIST C15 packaging, i.e. "packaged to minimize light and air exposure"?
Absolutely—a great deal of thought went into the packaging for this product! Because RESIST C15 is a water-light liquid, a bottle and dropper-tip applicator were the only way to go for measuring the perfect amount per use while ensuring the product wasn't messy to dispense. To protect the potency of the formula, tinted glass prevents UV exposure and an internal restrictor (when you pull the dropper out, airflow into the bottle is drastically reduced). In rigorous testing, these packaging safeguards were more than adequate to preserve the effectiveness of the RESIST C15 Super Booster! For maximum potency, we advise using C15 Super Booster within three months of opening.
How long will the trial size last?
The C15 Trial Size is 3.5ml, and should last you 20-25 days of usage.
Can I use RESIST C15 Super Booster with an AHA or BHA exfoliant?
This should be fine for those who are already using such products. If you're new to using an AHA or BHA exfoliant, we suggest separating application of the exfoliant and C15 Super Booster; for example using one in the morning and the other at night.
How does RESIST C15 Super Booster differ from your other antioxidant serums, including those that also contain vitamin C? Do I really need this product, too?
RESIST C15 Super Booster is a specialized treatment product designed to supercharge the benefits all of our serums provide. It was created for those who want to boost the efficacy of their anti-aging skincare routine, as it works multiple ways to make skin look and act younger. If you're happy with the results from your serum alone, you probably don't need to add this; however, you may want to experiment with it, as you may be surprised by the additional improvements! RESIST C15 Super Booster contains more than double the amount of vitamin C as our other serums, though all of our serums treat skin to a proven combination of anti-aging ingredients. The 15% concentration of stabilized vitamin C in RESIST C15 is an excellent amount to lighten stubborn brown spots, help fade red marks from acne, and significantly improve sun-damaged skin.
Is the effectiveness of RESIST C15 Super Booster reduced if I mix it with other products?
No. The formula was designed to complement the ingredients in our serums and moisturizers.
Is it OK to mix Resist C15 Super Booster with my sunscreen?
No, you should never mix any skincare product with a sunscreen because it will dilute the sunscreen making it less effective. For best results, mix RESIST C15 Super Booster with your serum each morning (or apply alone) and follow with your daytime moisturizer with sunscreen. In any daytime skincare routine, sunscreen should always be the last product applied.
Is RESIST C15 Super Booster suitable for breakout-prone skin?
Yes! Not only is the texture water-light, the vitamin C plus other antioxidants and repairing ingredients work to reduce the inflammation and redness from acne, as well as encourage healing of red marks from past breakouts.
Is RESIST C15 Super Booster suitable for rosacea-affected skin?
Maybe. The concern is the amount of vitamin C, which can be too potent for some cases of rosacea. We suggest sampling this product to see how your skin responds. Generally speaking, though, vitamin C's anti-inflammatory action on skin can be helpful for rosacea.
My skin tends to be sensitive to vitamin C but I still want to use this. Will applying it a few times per week still be beneficial?
Yes, of course. Although once or twice-daily application is recommended, you will absolutely still see benefits from RESIST C15 Super Booster if it's applied less often. As with any skincare product, you need to pay attention to how your skin responds and adjust usage (or products) accordingly.
Can RESIST C15 Super Booster be used as a skin-lightening product?
Research has shown that the amount of vitamin C the RESIST C15 Super Booster contains can significantly improve brown spots and other sun-induced discolorations. Ideally, you'd want to combine RESIST C15 Super Booster with one of our skin-lightening products with hydroquinone or niacinamide, but if your skin cannot tolerate those ingredients the vitamin C in Super Booster may be the solution!
You have several serums plus this booster product. Which one is best for me?
All of our serums contain a blend of anti-aging ingredients whose results are supported by published research, so which serum you choose comes down to skin type and personal preference, rather than one being better than the other. It is also perfectly fine to use more than one serum; for example, you could apply RESIST Ultra-Light Super Antioxidant Concentrate in the morning mixed with RESIST C15 Super Booster, then at night apply Resist Intensive Wrinkle-Repair Serum. Resist C15 Super Booster works with any of our serums or, if preferred, you may apply this treatment as the serum step in your morning and evening skincare routine.
What color should RESIST C15 be? My sample size has a pale yellow tint. Is that OK or should the product be clear?
C15 Super Booster should have a clear to a light yellowish tone. Although judging color can be somewhat subjective, the issue with destabilization of high amounts of vitamin C (ascorbic acid) comes into play once this vitamin begins to discolor significantly, i.e. turning a deep yellow/orange or deep brown shade. This is a sign the vitamin C has become less active which can occur over time, hence our recommendation to use this serum within three months of opening. A minor color variation is normal for products that don't contain artificial colorants to maintain a consistent shade, so between batches there can be a subtle difference in shade due to the natural color of the raw materials used to make the product. This does not mean the product is ineffective or less effective than if it were colorless.
Should I store C15 Super Booster in my refrigerator to keep it fresh and potent?
No. The work to stabilize a formula (along with extensive testing) is done during the development process. Once this stage is complete and the product passes all testing, there are no special precautions for storing your products, save for keeping them out of long-term storage in very hot* or very cold environments. Despite the fact that the consistent cool temps of your refrigerator keeps your lettuce crisp, it's actually detrimental to the stability of your carefully calibrated C15 Super Booster. To get the most from this treatment, keep it at room temperature and secure the dropper cap tightly after each use. *A steamy bathroom such as can occur during a shower does not get hot enough to affect this product's stability.
Share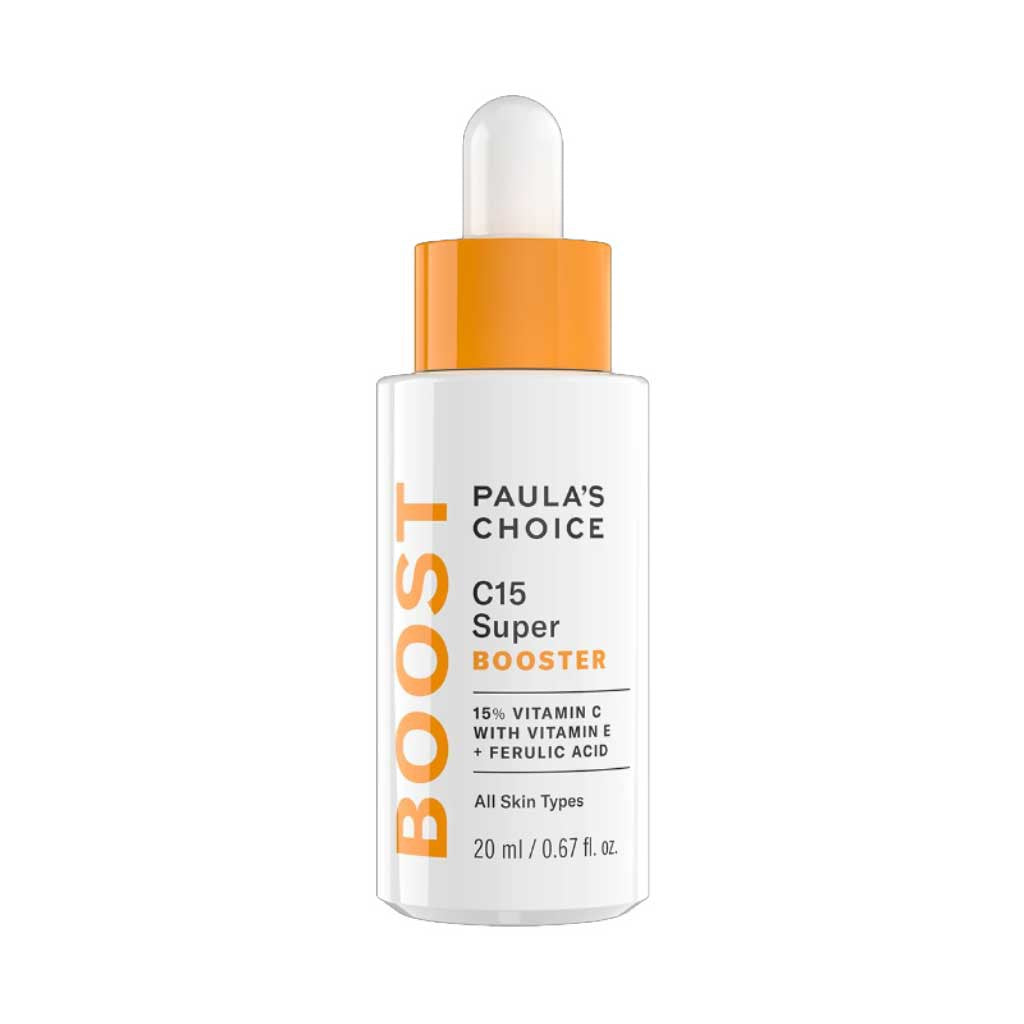 "Protect Your Skin And It Will Protect You Back"
Know Our Purposes
Science Driven

Research papers empower our cosmetic science knowledge. To find you the best products, we value facts over myths. We don't trust how beautiful an advertisement looks. We go directly to read the ingredient list.

Powerful lngredients

We partner with honest and transparent brands. Every product we carry for you contains effective ingredients in optimal concentrations the skin needs, nothing it doesn't.

Fragrance Free

With over 300 products here, not even 1 contains fragrance. We approve a product because it contains good ingredients. and bypass a product because it contains irritating agents.