Vitamin C Serum
Regular price

RM139.00

Sale price

RM124.90
Illuminate the natural aura of your skin with stabilized vitamin C. This concentrated serum revives skin's radiance and reduces skin's visible and hidden dark spots excellently.
Feather-light, liquid serum that sinks into skin instantly
Resolves signs of aging and photodamage
Brightens skin tone, tackles hyperpigmentation, reduces wrinkles & fine lines
Skin looks more radiant, smoother and healthier
What makes this product unique?
The award-winning Vitamin C Serum is Mad Hippie's signature skin brightening serum, naturally designed to even skin tone for a luminous glow and better skin radiance. Combining highly stabilized forms of vitamin C and vitamin E with an array of earth-sourced super antioxidants, this serum wards off the damage of environmental pollutions and slows the skin aging processes.
Effective delivery of vitamin C into the skin enhances natural radiance from within, and help reduce the appearance of discolorations and wrinkles. Hyaluronic acid and glycerine attract moisture to hydrate the skin surface. Excellent research-proven antioxidants supercharged by ferulic acid, grapefruit, chamomile, clary sage and konjac provide advanced environmental protection by neutralizing free radicals, giving skin a prolonged smooth, soft and healthy complexion.
All Mad Hippie products are fragrance free, clinically proven to be non-irritating, and never tested on animals. This product is also certified vegan and GMO free. Product recyclable packaging is printed using soy inks with 100% wind energy.
What does it do?
Mad Hippie Vitamin C Serum's impressive formula syndicates stabilized vitamin C with a fruitful bunch of natural antioxidants for enhanced skin-brightening and anti-aging performance. A few concentred drops each time, your skin will look evenly radiant and dramatically younger day after day.
Who is this product for?
For all skin types. A targeted, daily treatment naturally formulated for anyone who wants to experience the benefits of vitamin C when combined with other proven anti-aging ingredients to improve brown spots, uneven skin tone, fine lines, wrinkles and dull complexion.
*The illustrations are shared honestly by our authentic shoppers of Mad Hippie Vitamin C Serum. Strictly no sponsorship is involved. Though we strive to put in all of the best brightening ingredients in this serum, improvements will wary from person to person, depending on your inborn skin type, lifestyle, sun exposure, frequency of use for this serum etc. 
*Awarded the BEST Vitamin C Serum in Malaysia 
Deionized Water, Sodium Ascorbyl Phosphate (vitamin C/skin brightening), Alkyl Benzoate (texture enhancer), Vegetable Glycerin (hydration), Water, Glycerin (hydration), Sodium Levulinate (texture enhancer), Sodium Anisate (texture enhancer), Clary Sage (Salvia Sclarea/antioxidant), Grapefruit (Citrus Grandis/antioxidant), Hyaluronic acid (hydration/skin-replenishing), Amorphophallus Konjac Root Powder (antioxidant), Aloe Barbadensis Leaf (hydration), Tocotrienol (vitamin E/antioxidant), Ferulic Acid (antioxidant), Chamomile Flower Extract (Recutita Matricaria/antioxidant), Sodium Phytate (texture enhancer), Xanthum Gum (texture enhancer), Hydroxyethylcellulose (texture enhancer)
Apply 2-3 drops onto face and neck. For optimal results, use AM and PM.
Are Mad Hippie products vegan and cruelty-free?
All of our products are certified cruelty-free and vegan! Though, our Facial SPF includes a little bit of beeswax for skin hydration. Many vegans are fine with beeswax, but we understand and sincerely respect that it is a personal choice :)
How about GMO-free?
Yes! All Mad Hippie products are GMO-free and contain absolutely no genetically modified organisms.
Are Mad Hippie packaging pumps BPA-free and recyclable?
Our airless pumps are made with materials with no added BPA, and are fully recyclable. Most airless pumps on the market contain both metal and plastic, Mad Hippie's pumps utilize the recyclable materials. Better for the Mother Nature!
How long does it take to start seeing the effects of Mad Hippie?
The majority of what we consider to be skin aging is actually sun damage that we accumulate over our lifetime. Treating this through natural super antioxidants and safe ingredients is the best means, but we have to be honest and rational that one should not expect overnight results. Instead, we can expect to see marked improvements in a month or two. With consistent use of Mad Hippie heartily-made products, we guarantee you can keep your skin looking healthy, bright and beautiful regardless of your age.
Where should I keep my Mad Hippie products?
All Mad Hippie products go through rigorous stability and efficacy tests before we put them in your hands. They can be kept conveniently at room temperature wherever you would like. The products will remain potent for a prolonged period as long as they are stored away from the direct sunlight.
Can I use Mad Hippie products while pregnant?
We always recommend consulting with your health care provider for skincare during pregnancy. From medical research we come across, we would suggest avoid using products with retinoids during pregnancy, as in our Vitamin A Serum.
Are Mad Hippie products suitable for those with acne prone skin?
All Mad Hippie products perform impressively for acne prone skin as we use a lot of skin balancing ingredients that are beneficial for all skin types. The serums are most recommended, particularly the Vitamin C Serum, which is brilliant in reducing the inflammation of existing breakouts and lightening post-acne marks.
The Vitamin A Serum or Exfoliating Serum can be added at night to drastically speed up the healing process of acne. We are confident you will regain your healthy, smooth and soft skin with our well-formulated products!
I have rosacea, what products should I use?
We highly recommend the Hydrating Nutrient Mist, Vitamin C Serum and Face Cream. Apply the soothing mist, follow with our most-loved Vitamin C Serum, finally the nourishing Face Cream.
I have skin discoloration, which Mad Hippie products are the best?
If you have discolorations from sun damage, the Hydrating Nutrient Mist, Vitamin C Serum, Vitamin A Serum, Exfoliating Serum and Facial SPF are designed to work together in dramatically lightening your spots and brightening your overall skin tone.
Discoloration is normally a result overactive melanin producing cells, due to overexposure to UV rays. Our products are formulated to penetrate into the skin for maximum brightening and hydrating benefits. Remember to put on a sunscreen daily, rain or shine, for best results.
How do I become a reseller of Mad Hippie in Malaysia?
We are thrilled to know you're interested in sharing Mad Hippie with us! Please contact us directly here.
Share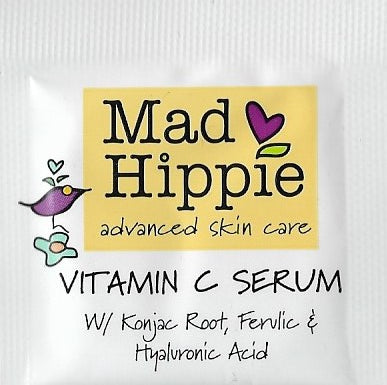 "Protect Your Skin And It Will Protect You Back"
Know Our Purposes
Science Driven

Research papers empower our cosmetic science knowledge. To find you the best products, we value facts over myths. We don't trust how beautiful an advertisement looks. We go directly to read the ingredient list.

Powerful lngredients

We partner with honest and transparent brands. Every product we carry for you contains effective ingredients in optimal concentrations the skin needs, nothing it doesn't.

Fragrance Free

With over 300 products here, not even 1 contains fragrance. We approve a product because it contains good ingredients. and bypass a product because it contains irritating agents.