LIP & BODY Treatment Balm
Regular price

Sale price

RM95.00
This astoundingly long-lasting, decadently emollient lip balm offers on-the-spot relief for dry, rough lips or for skin anywhere on the body, such as on the elbows, or even for the nails. Give chapping the chop. Long lasting, never greasy.
Dry/Very Dry Skin
Targeted relief for dry lips, cuticles, heels, and elbows
Banishes rough dry lips after one application
Concentrated formula has a rich substantial texture that lasts and lasts
Why is it different?
LIP & BODY Treatment Balm blends classic well-researched emollients with nourishing non-fragrant plant oils, resulting in a unique formula that visibly transforms lips with the first application.
Lip & Body Treatment Balm is an amazing product that offers on-the-spot, targeted relief for dry lips, cuticles, feet, hands—anywhere there is dry, rough, chapped skin! It provides a long-lasting, soothing, protective barrier that treats dry, chapped areas by keeping air off of them, allowing skin to heal. Unlike similar products, Lip & Body Treatment Balm does not feel overly thick or waxy, yet it provides substantial protection. When used daily both morning and night, but especially at night, you will never have dry, chapped skin again, guaranteed.
All Paula's Choice products are 100% fragrance free, clinically proven to be non-irritating, and never tested on animals.
What does it do?
LIP & BODY Treatment Balm offers immediate relief for dry, flaky lips, cuticles, heels, and elbows. From first use, its long-lasting, soothing application visibly leaves lips softer feeling than ever before. Unlike other lip-balms and similar products, LIP & BODY Treatment Balm doesn't feel thick or waxy and omits ingredients like menthol and fragrant oils that can cause problems for lips. Instead, all you'll feel is comfortably smooth lips and skin. Wear it every night at bedtime and banish dry rough skin forever.
Who is it for?
LIP & BODY Treatment Balm is for anyone experiencing dry, flaky lips or patches of dry, rough skin.
Current Pharmaceutical Biotechnology, 2014, issue 2, pages 173-81
The Journal of Clinical and Aesthetic Dermatology, June 2011, issue 6, pages 45-55
Italian Journal of Dermatology and Venerology, December 2013, issue 6, pages 687-91
Dermatologic Therapy, May-June 2012, issue 3, pages 229-33
Indian Journal of Dermatology, May-June 2016, issue 1, pages 279-287
Indian Dermatology Online Journal, April-June 2013, issue 2, pages 143-146
Indian Journal of Clinical Biochemistry, April 2013, issue 2, pages 110-115
Ricinus Communis Seed Oil (castor oil/non-fragrant oil/emollient), Petrolatum (emollient), Euphorbia Cerifera Wax (candelilla wax/emollient/texture-enhancing), Lanolin (emollient), C10-30 Cholesterol/Lanosterol Esters (emollient/skin replenishing), Cera Alba, (beeswax/texture-enhancing), Ozokerite (texture-enhancing), Ethylhexyl Palmitate (emollient), Copernicia Cerifera Wax (carnauba wax/emollient/texture-enhancing), Butyrospermum Parkii Butter (shea butter/emollient/antioxidant), Jojoba Esters (emollient), Triticum Vulgare Germ Oil (wheat germ oil/non-fragrant oil/emollient), Bisabolol(skin-soothing), Tetrahexyldecyl Ascorbate (vitamin C/antioxidant), Tocopheryl Acetate (vitamin E/antioxidant), Trihydroxystearin (emollient), Hydrogenated Polyisobutene (emollient/texture-enhancing).
Massage onto cuticles, elbows, knees, heels, lips—anywhere there is extremely dry or chapped skin. May be used as often as needed.
Which lip product is right for me?
Paula's Choice offers two moisturizing products for keeping lips in beautifully smooth, kissable condition.
Sun protection is vital for healthy lips so we offer LIPSCREEN SPF 50, which comes in soft colors or a colorless "shade", Invisible, that's designed as a lighter, glossier option for keeping lips moist and shielded from the sun's rays. Its in-part avobenzone sunscreen ensures UVA protection.
For nighttime lip care, a Paula's Choice staff favorite is our LIP & BODY Treatment Balm. This ultra-emollient product keeps lips smooth, soft, and protected from external causes of dryness such as indoor heat or low humidity. Lip & Body Balm may also be used as a moisturizer for cuticles, feet, hands—anywhere there is dry, rough, chapped skin.
LIP & BODY Treatment Balm may be used any time, but it should be followed with a product containing sunscreen if your lips or skin will see daylight.
Share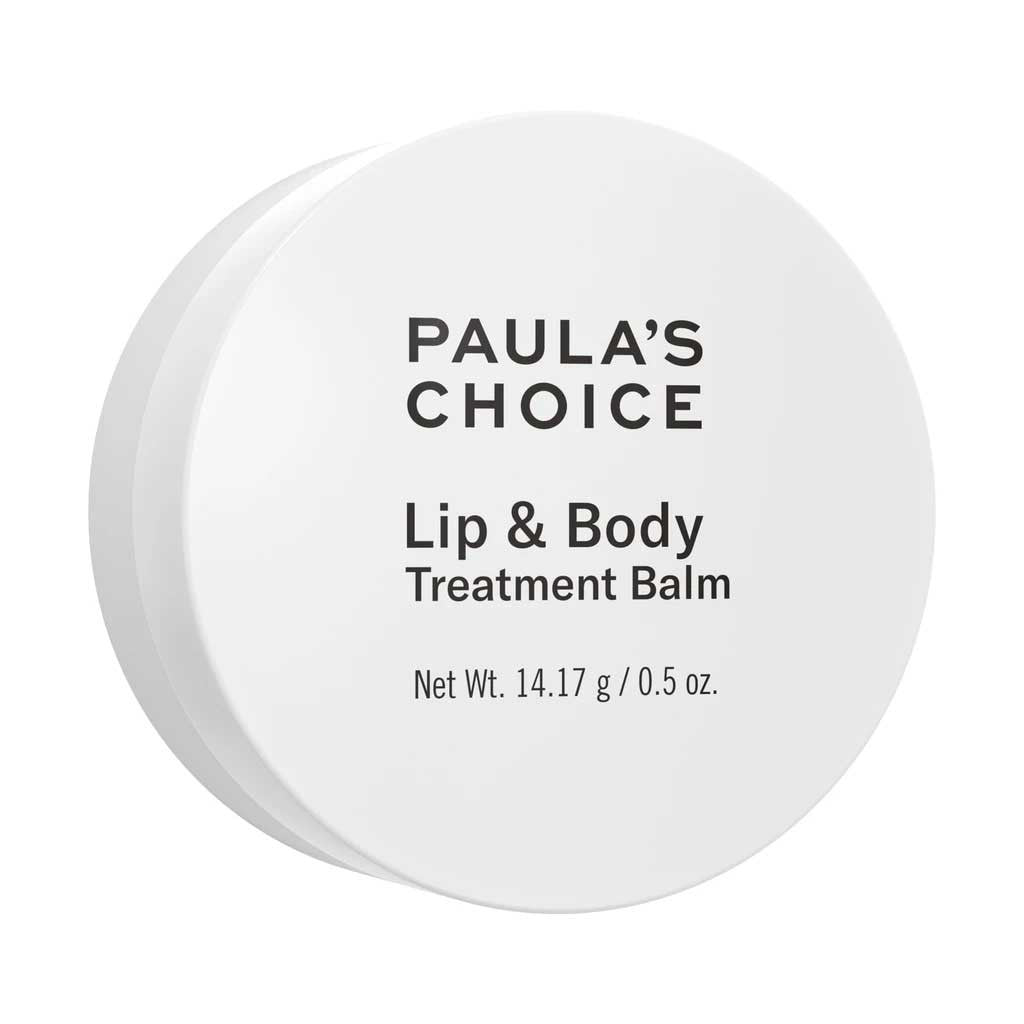 "Protect Your Skin And It Will Protect You Back"
Know Our Purposes
Science Driven

Research papers empower our cosmetic science knowledge. To find you the best products, we value facts over myths. We don't trust how beautiful an advertisement looks. We go directly to read the ingredient list.

Powerful lngredients

We partner with honest and transparent brands. Every product we carry for you contains effective ingredients in optimal concentrations the skin needs, nothing it doesn't.

Fragrance Free

With over 300 products here, not even 1 contains fragrance. We approve a product because it contains good ingredients. and bypass a product because it contains irritating agents.