Sunscreen Indoor & Outdoor Sun Protection Kit | Broad-Spectrum SPF 30 & SPF 50 Fluid
Regular price

RM191.00

Sale price

RM181.90
Whether you're hitting the beach or hanging out at home, this 2-step essential kit guarantees that your skin stays protected and comfortable all day long.
Perfect for indoor (SPF 30) and outdoor (SPF 50) application
Cleanser w/ 2% BHA removes impurities & sunscreens thoroughly
Broad spectrum (UVB, UVA2 & UVA1), weightless protection
Niacinamide strengthens the skin barrier
Vitamin E enhances antioxidant defense
Suitable for children (2+ years)
Water-resistant
What makes this product unique?
You can't see the sun's harmful rays. But they are the #1 cause of skin cancer, damaged skin barrier and deep wrinkles. Reading this, you probably know you need to protect your skin from the sun, particularly UVB that burns the skin, when you are outdoor. But UVA rays penetrate uncoated windows. If you see daylight, UVA rays are present. UVA rays are responsible for giving skin a number of unpleasant signs of aging. Your skin needs to be protected when you are indoor, too.
Partnering with Altruist sunscreen experts, we put together top-rated, effective sunscreens for you to use indoor (SPF 30) and outdoor (SPF 50). Sunscreens must be removed thoroughly. Hence, you also get a brilliantly-formulated cleanser in this kit that swiftly cleanses away daily impurities and sunscreen leftover, while unclogging pores at the same time. 
Altruist was founded by Dr. Andrew Birnie (British consultant dermatologist & skin cancer surgeon), and David Westerbeek (philanthropist who has contributed in skincare his whole life).
Altruist's commitments:-
Fragrance-free
Alcohol-free
No animal testing
Vegan-friendly
Package made w/ recyclable materials
This 2-Step Kit includes:
1 x Altruist Dermatologist Cleansing Foam 2% Salicylic Acid (BHA) 118 ml
1 x Altruist Dermatologist Sunscreen SPF 30 Fluid 50 ml
1 x Altruist Dermatologist Sunscreen SPF 50 Fluid 50 ml
Worthee Cosmetics is the sole distributor for Altruist products in Malaysia. All products are guaranteed 100% authentic.
What does it do?
A 2-step, convenient-to-use cleanse & protect kit for practical care of all skin types.
Both SPF 30 and SPF 50 Sunscreen Fluids are formulated with a hybrid of several minerals & synthetic UV filters, approved to be safe and with high-end UV protection by the European Union Cosmetics Regulation. Apply SPF 30 when you are mostly indoor during the day, or SPF 50 when you are mostly out for activities under the sun. Be surprised that both sunscreens feel weightless and unseen on the skin, whilst proficiently protecting skin from being impaired by UV exposure.
Twice a day, cleanse with Altruist Cleansing Foam with 2% Salicylic Acid (BHA). This soap-free cleanser delivers a comfortingly mild yet effectively clean face wash experience for every skin type, lifting surface debris together with inner pores' impurities and excess oil, while softening, soothing and calming sensation.
Who is this product for?
A reliably-developed, thoughtfully-made cleanser and sunscreen recommended for daily use on all skin types, indoor and outdoor, especially acne-prone, sensitive skin.
*Due to length limit, please refer to respective product page for full list of good ingredients in the products.
Step 1: Begin your day freshly with a soft cleanse of Altruist Cleansing Foam with 2% Salicylic Acid (BHA). Massage the cloud-like foam all over wet face and neck in a light circular motion, avoiding the eyes, then rinse off for a clean and clear complexion.
Step 2: Apply Altruist SPF 30 Fluid if you are mostly indoor for the day, or SPF 50 Fluid if you are mostly outdoor. You can put on SPF 30 Fluid, and reapply SPF 50 Fluid, or vice versa, after you swim or sweat for better sun protection.
Step 3: End your day comfortably with Altruist Cleansing Foam with 2% Salicylic Acid (BHA) to effectively dissolve all impurities and sunscreen.
Share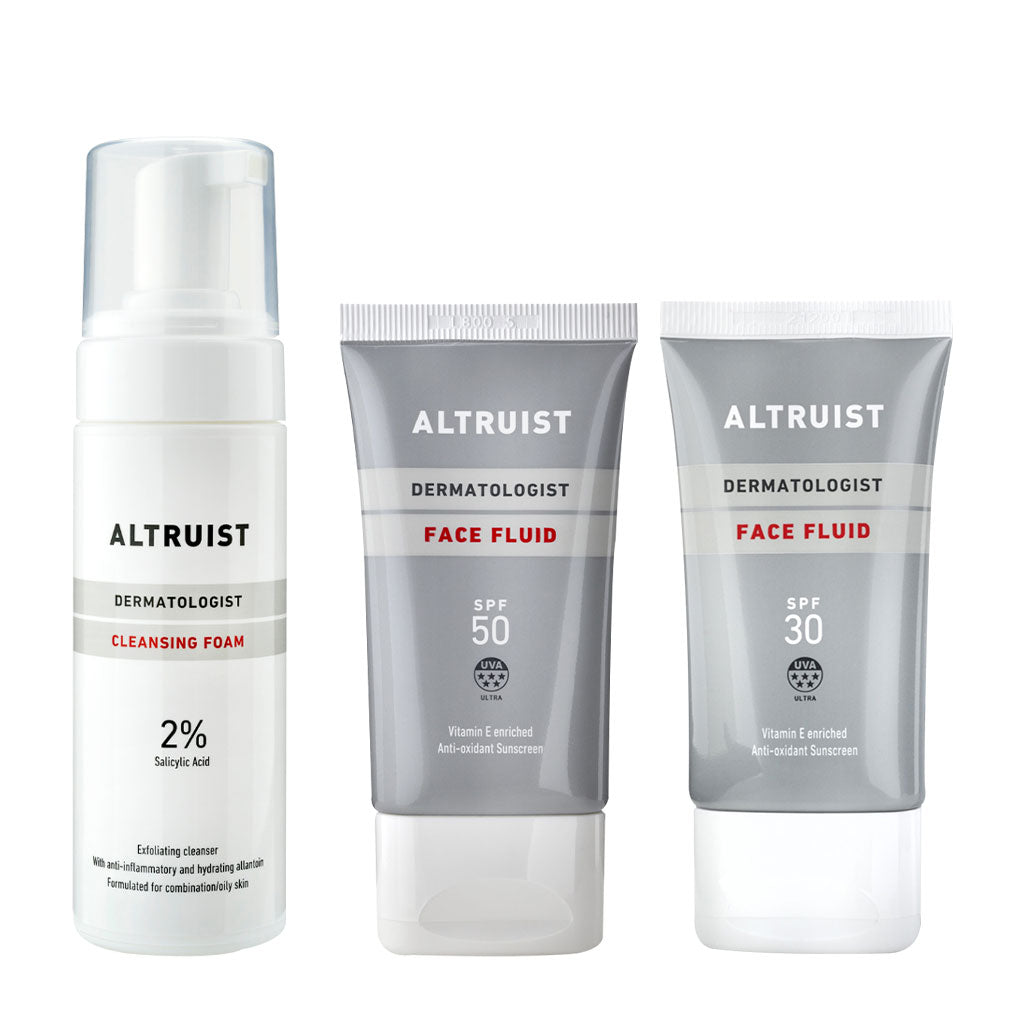 "Protect Your Skin And It Will Protect You Back"
Know Our Purposes
Science Driven

Research papers empower our cosmetic science knowledge. To find you the best products, we value facts over myths. We don't trust how beautiful an advertisement looks. We go directly to read the ingredient list.

Powerful lngredients

We partner with honest and transparent brands. Every product we carry for you contains effective ingredients in optimal concentrations the skin needs, nothing it doesn't.

Fragrance Free

With over 300 products here, not even 1 contains fragrance. We approve a product because it contains good ingredients. and bypass a product because it contains irritating agents.