Hyaluronic Acid 2% + Vitamin B5
Regular price

RM36.00

Sale price

RM32.40
A hydrating booster with a punch of Vitamin B5 that pulls moisture deep into the skin & lock-in there, leaving instant plump, baby-soft skin.
Fragrance Free
Silicone Free
Instant Hydration
Oil Free
pH: 6.0 - 7.0
Hyaluronic acid is sourced from Royal DSM, Netherlands; a global science-based company ranked in Global 100 Most Sustainable Corporations 2020
What makes this product unique?
Hyaluronic Acid (HA) is a humectant that pulls moisture and locks it into the skin. HA, naturally occurring glycosaminoglycans, can bind and retain water molecules up to 1000 times its weight making it vital for youthful, plump skin.
Not all topical Hyaluronic Acid serums provide equal hydration & results as the molecular size of HA determines the depth of its delivery into the skin. The smaller the molecule size, the deeper it penetrates the epidermis that provides hydration for longer duration as well as delivers other vital roles of HA in the body such as anti-aging and healing. Larger HA molecules stay on the outer skin and provide surface hydration only giving you instant hydrated and supple skin. But in the latter case, you cannot get full benefits of HA as it lies only on the surface.
Minimalist has taken a unique multi-molecular approach to provide you both instant surface hydration and deep HA delivery for reaping maximum benefits. This serum contains 2% Sodium Hyaluronate (a salt of HA) with small and large HA molecules for multi-depth hydration. Vitamin B5 keeps your skin well-moisturised by preventing trans-epidermal water loss.
In low humidity or winters, HA may take moisture from inside of skin and bring it to the surface, causing internal dryness. In such conditions, layer it with a light weight moisturiser to lock the moisture in.

What does it do?
The feather-light formula contains a multi-molecular 2% Sodium Hyaluronate (a salt of HA). Unlike other HA serums, it provides multi-level hydration. While the larger HA molecules give you surface hydration for an instant plump look, the smaller HA molecules penetrate deep into the dermis for long-lasting hydration. Made using Aloe juice instead of water with benefits of pro-Vitamin B5 that soothes & deeply hydrates your skin, leaving a non-sticky, silky smooth canvas.
Who is this product for?
Anyone looking for a weightless water-based hydrator.
Aloe Vera Juice, Dimethyl Isosorbide, Sodium Hyaluronate, Propanediol, Ethoxydiglycol, Panthenol, Phenoxyethanol, Pullulan, Ethylhexylglycerin, Hydroxyethylcellulose, Xanthan Gum, Sclerotium Gum, Trisodium Ethylenediamine Disuccinate, Lecithin
Apply twice daily on cleansed, damp skin (not sopping wet, after washing pat dry with hands gently), take a pea-sized amount on your fingertips, and apply on the face and neck.
Hyaluronic Acid is a must-have as the first step after cleansing as it helps to draw moisture into the skin and aid other treatment or daily serums used in the next steps of your routine, such as Vitamin C, Niacinamide or Retinols. Wait for 1-2 minutes to allow HA to get absorbed and then go ahead with applying other serums and moisturizers in the end.
It can be applied in the morning (AM) and evening (PM). While using exfoliants such as 2% Salicylic Acid or 10% Lactic Acid Serums, apply exfoliants before HA.
For beautiful, plump skin, you need not only invest money but time while following a skincare routine every single day. Apply Hyaluronic Acid religiously for 7-8 weeks for the best results.

9 out of 10 subjects noticed plumped & hydrated skin in 4 weeks
8 out of 10 subjects said skin felt much less dry in 4 weeks
8 out of 10 subjects said skin felt soft immediately after use
1. Does Hyaluronic Acid serum cause purging or breakout?
Hyaluronic Acid is not an active ingredient, so it does not cause purging. Also, Minimalist HA is an oil-free, non-comedogenic formula that does not clog your pores or cause breakouts. HA used in the serum is quickly absorbed, leaving a non-sticky smooth surface without irritating skin. Although HA serums do not cause purging or any side effects, we recommend doing a patch test before using it.
2. What is Hyaluronic Acid?
Hyaluronic Acid is a naturally occurring glycosaminoglycan, a critical molecule found in the body's connecting tissue, skin, and eyes. Our body naturally produces HA, but with age and UV exposure, the skin's ability to produce HA decreases, and we need to supplement it externally. It contains humectant, which attracts moisture, thus giving this molecule a unique capacity to retain water. Hyaluronic Acid is the reason our skin looks hydrated, plump, and young. Lack of it leads to wrinkles, fine lines, and dull skin.
3. What is the recommended age, and who can use this product?
Anyone (male or female) above the age of 20 (below this age body usually produces sufficient HA of its own and you do not need topical HA) can use this product. Highly recommended in the mid-20s and early 30s as with age, the natural percentage of Hyaluronic Acid in the skin decreases; thus, we need to shift to HA supplements or topical applications (serums) of HA. Since Hyaluronic Acid is a hydrating booster, it works well with any skin type, whether the skin is sensitive, oily, or prone to breakouts. Although side effects from Hyaluronic Acid are rare, we recommend patch tests before including any new skincare product into your routine.
People with a history of severe allergy or compromised skin, pregnant or breastfeeding women shall consult their doctor before including HA in any form into their routine.
4. What does Hyaluronic Acid do to my skin?
Our body (average 70 kg human body) contains roughly 15 grams of the hyaluronan naturally present at the innermost layer of epidermis where it binds with water and helps retain moisture to the skin. It also supports nutrient transmission in the epidermis. As per a study, increased HA content enhanced the presence of Retinoic Acid in the epidermis, thus boosting the skin's ability to fight aging signs. Also, it promotes skin healing. When applied topically on the skin, Hyaluronic Acid serum reduces aging signs like wrinkles and fine lines and gives a plump, hydrated, glowing complexion. (Note the HA molecule needs to be small enough to sink in for deep hydration and anti-aging effect)
5. What are the side effects of Hyaluronic Acid?
Since our body also makes Hyaluronic Acid, it does not have any severe side effects. It is likely safe when taken by mouth, through creams, serums, or by injections. However, people with a history of severe allergy shall consult a doctor before including HA in any form.
Also, the impact of HA on pregnant or breastfeeding women is unknown, we recommend to consult your doctor before including HA in any form into your routine.
In extremely dry weather, always layer it with a good lightweight moisturiser.
6. Can I use Hyaluronic Acid every day?
You can use Hyaluronic Acid every day at AM and PM. Wash your face with a mild cleanser and on a damp face (not sopping wet), apply pea-sized Hyaluronic Acid on your face and neck. Then go ahead and lock it with creams and moisturizers. Try not to put it on top of moisturizers or sunscreens as it won't work.
7. Can Hyaluronic Acid and Vitamin C be used together?
Yes, you can apply Vitamin C after applying Hyaluronic Acid to your skin. Both HA and Vitamin C work wonders when used together. HA increases the absorption of serums (Vitamin C, Retinol, Niacinamide etc.) as hydrated skin absorbs more than dehydrated skin. Add both to your skincare routine for brighter, visibly hydrated smooth skin.

Note: If using exfoliating facial serum such as 2% Salicylic Acid or 10% Lactic Acid, always apply HA after exfoliating serum as exfoliants work best on freshly cleaned skin with no other product applied.

Share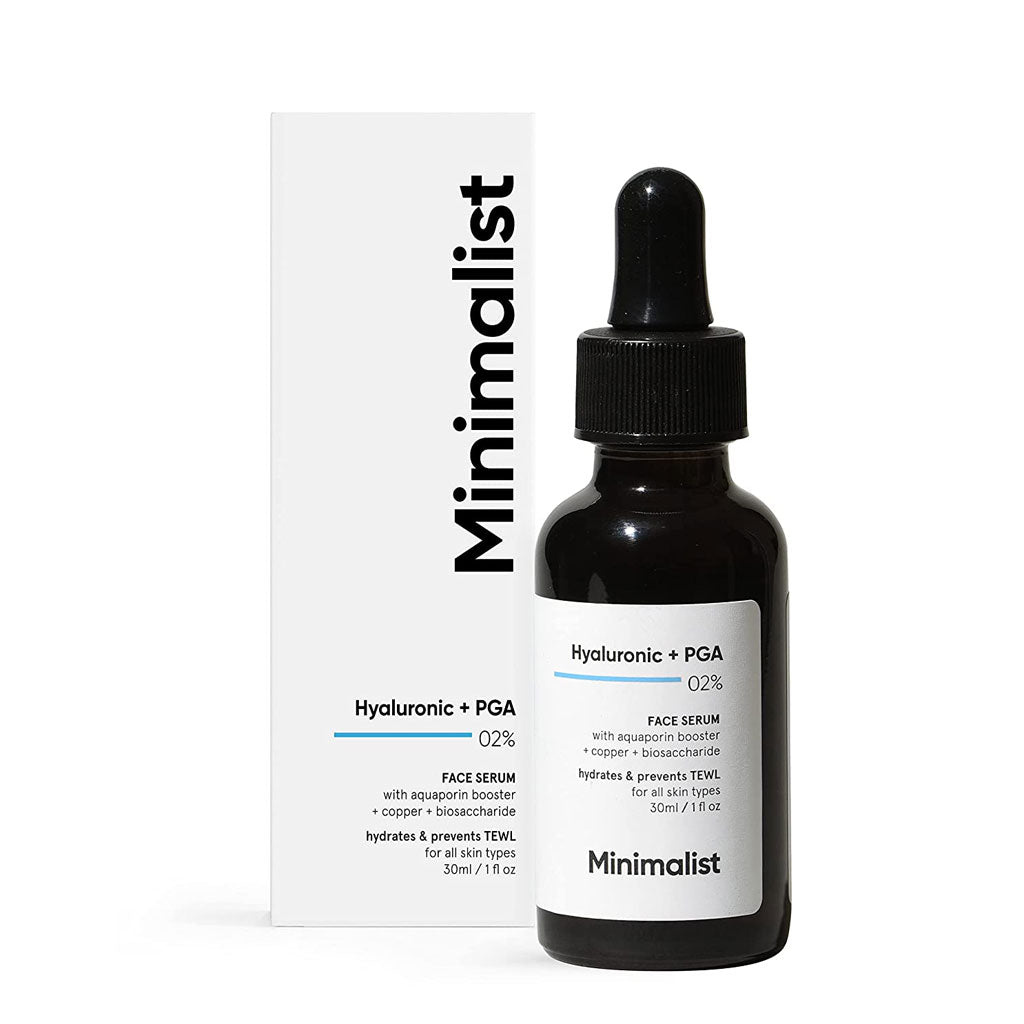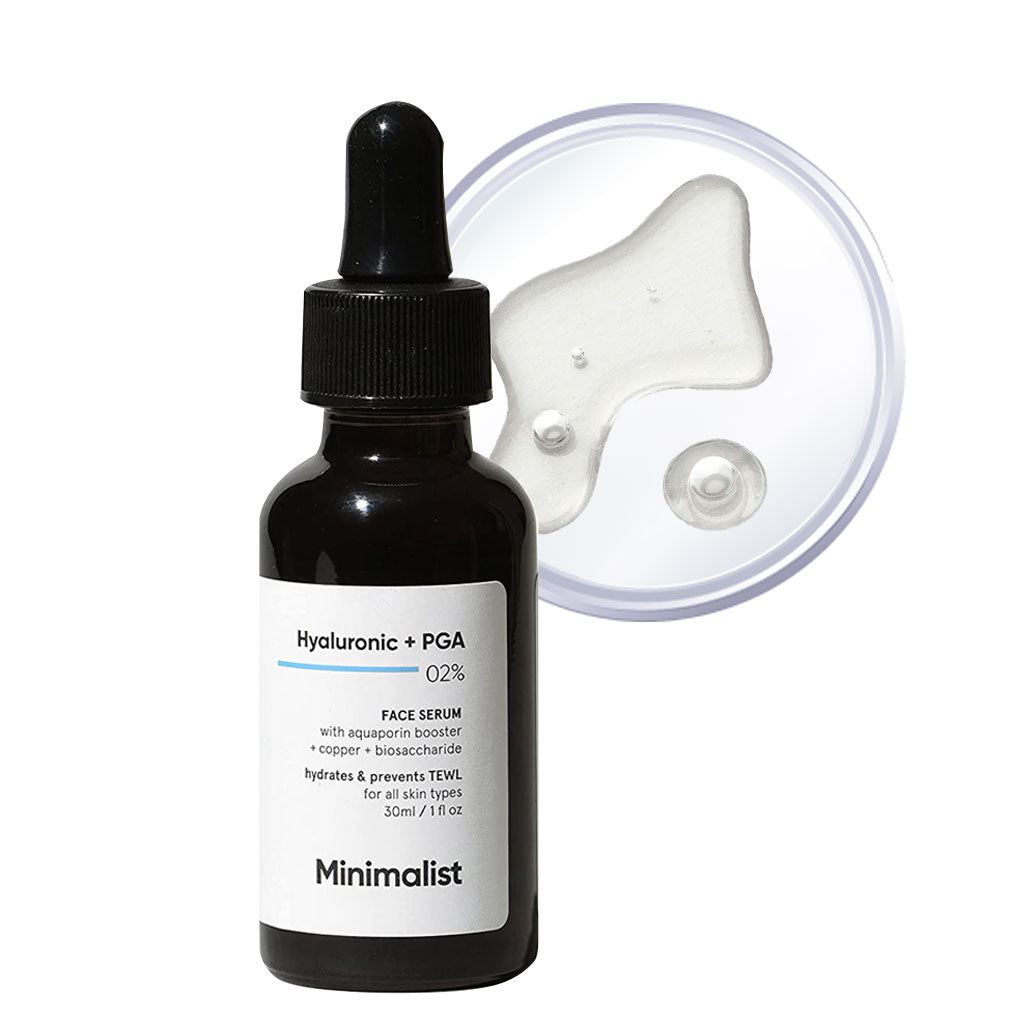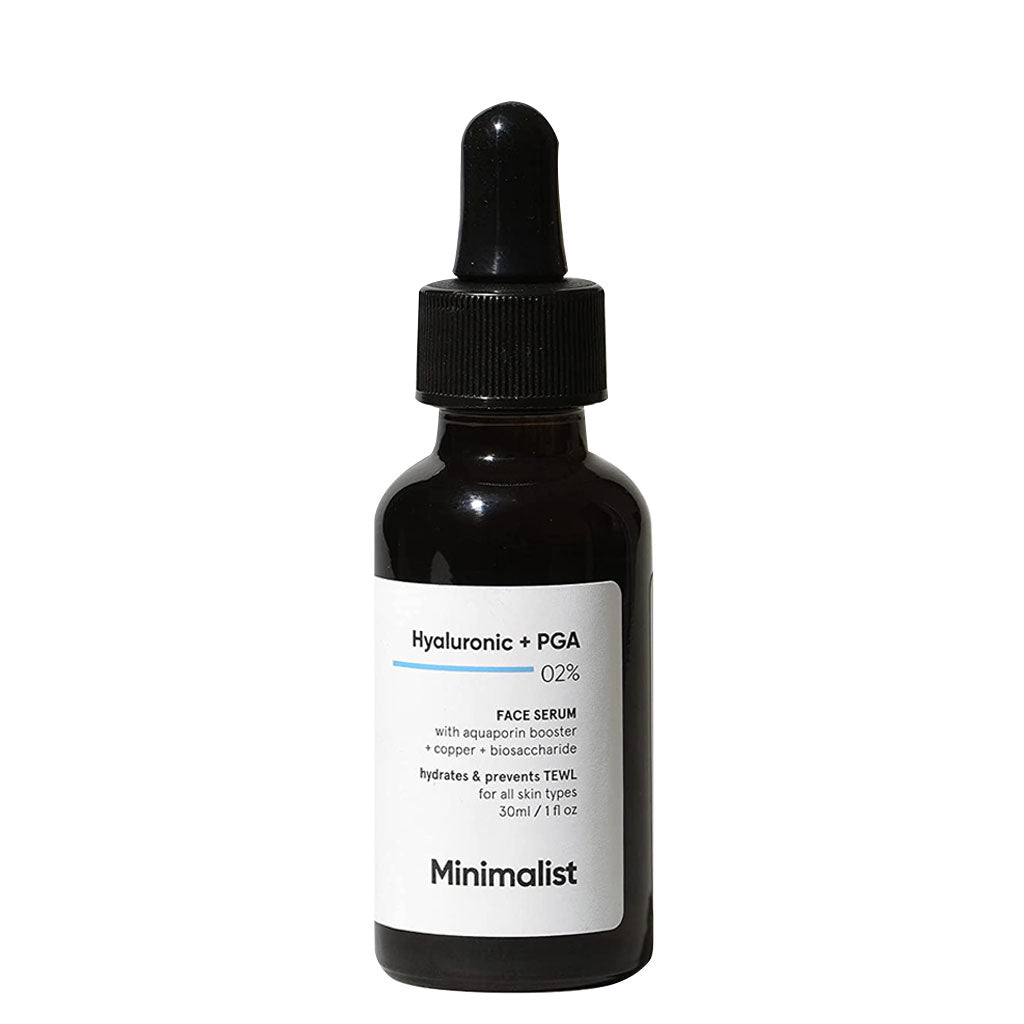 "Protect Your Skin And It Will Protect You Back"
Know Our Purposes
Science Driven

Research papers empower our cosmetic science knowledge. To find you the best products, we value facts over myths. We don't trust how beautiful an advertisement looks. We go directly to read the ingredient list.

Powerful lngredients

We partner with honest and transparent brands. Every product we carry for you contains effective ingredients in optimal concentrations the skin needs, nothing it doesn't.

Fragrance Free

With over 300 products here, not even 1 contains fragrance. We approve a product because it contains good ingredients. and bypass a product because it contains irritating agents.