The Specialist: AHA + BHA + Niacinamide Treatment for Intermediate Acid Users
Regular price

RM245.00

Sale price

RM208.25
A leading edge blend of alpha-hydroxy acid (AHA) + beta-hydroxy acid (BHA) exfoliating booster + mask that clears up pore-related struggles.
Lightweight, quick-dissolving water-gel texture
18% AHA lightens discolorations & acne marks
2% BHA dislodges blocked pores
5% niacinamide regulates sebum secretion
Builds baby soft, clean and polished complexion
What makes this product unique?
18% Mandelic Acid (AHA) + 2% Salicylic Acid (BHA)
Mandelic acid has a molecular weight of 152.1 daltons, and the common glycolic acid is 76.0 daltons. Mandelic acid therefore penetrates the skin gradually and deliberately, exfoliating the skin surface by breaking down the material that holds dead skin together. While mandelic acid exfoliates the top layer of skin, even better, salicylic acid oil-soluble nature allows it to exfoliate inside the pore linings to address the many systemic pore-related problems. The smart water- & oil-soluble medley of AHA and BHA reactivates skin youthful mechanisms as well as addresses the root cause of acne and congested pores.
5% Niacinamide + Willow Herb Flower/Leaf Extract + Sweet Potato Root Extract
Bolstering the brilliant exfoliating effects of AHA and BHA, skin-restoring niacinamide extraordinarily polishes the skin by strengthening the skin surface and offsetting environmental attacks with potent antioxidizing plant extracts. With an ability to regulate sebum (oil) production, the best partner of BHA and niacinamide in Chemist Confessions The Specialist eliminates oily shine and creates a balanced, soft-touching complexion.
All Chemist Confession products carried by Worthee Cosmetics are 100% authentic (or your money back) and fragrance free.
What does it do?
Chemist Confessions The Specialist features a pro AHA + BHA acid complex that sheds dullened pore congestions, visibly resolving the appearance of enlarged pores, breakouts, blackheads, whiteheads, bumps, uneven skin tone, fine lines and other moderate to severe pore-associated poreblems. The results? Clarified, plumped-up and beautifully-dewy skin, of course.
Who is this product for?
Ideal for all skin types, particularly combination to oily, or very oily skin struggling with pore-related concerns.
Butylene Glycol, Mandelic Acid, Water, Propanediol, Niacinamide, Ethoxydiglycol, Salicylic Acid, Polyacrylate Crosspolymer-6, Epilobium Angustifolium Flower Leaf Stem Extract, Citrus Aurantium Amara (Bitter Orange) Flower Extract, Ipomoea Batata Root Extract, Hydrolyzed Gardenia Florida Extract
Use as a spot treatment: dispense 1 drop onto your fingertip and gently massage on poreblematic areas (breakouts, blackheads or bumps) before sunscreen or moisturizer. Use AM and/or PM.
Use as an acid booster: mix 1 drop with your favourite Chemist Confessions serum or moisturizer and gently smooth over the entire face and neck, at night. Do not rinse.
Use as an exfoliating mask: after cleansing, smooth 4-5 drops over the entire face and neck. Leave on for 10 minutes and rinse off with water. Use once or twice a week, at night.
Share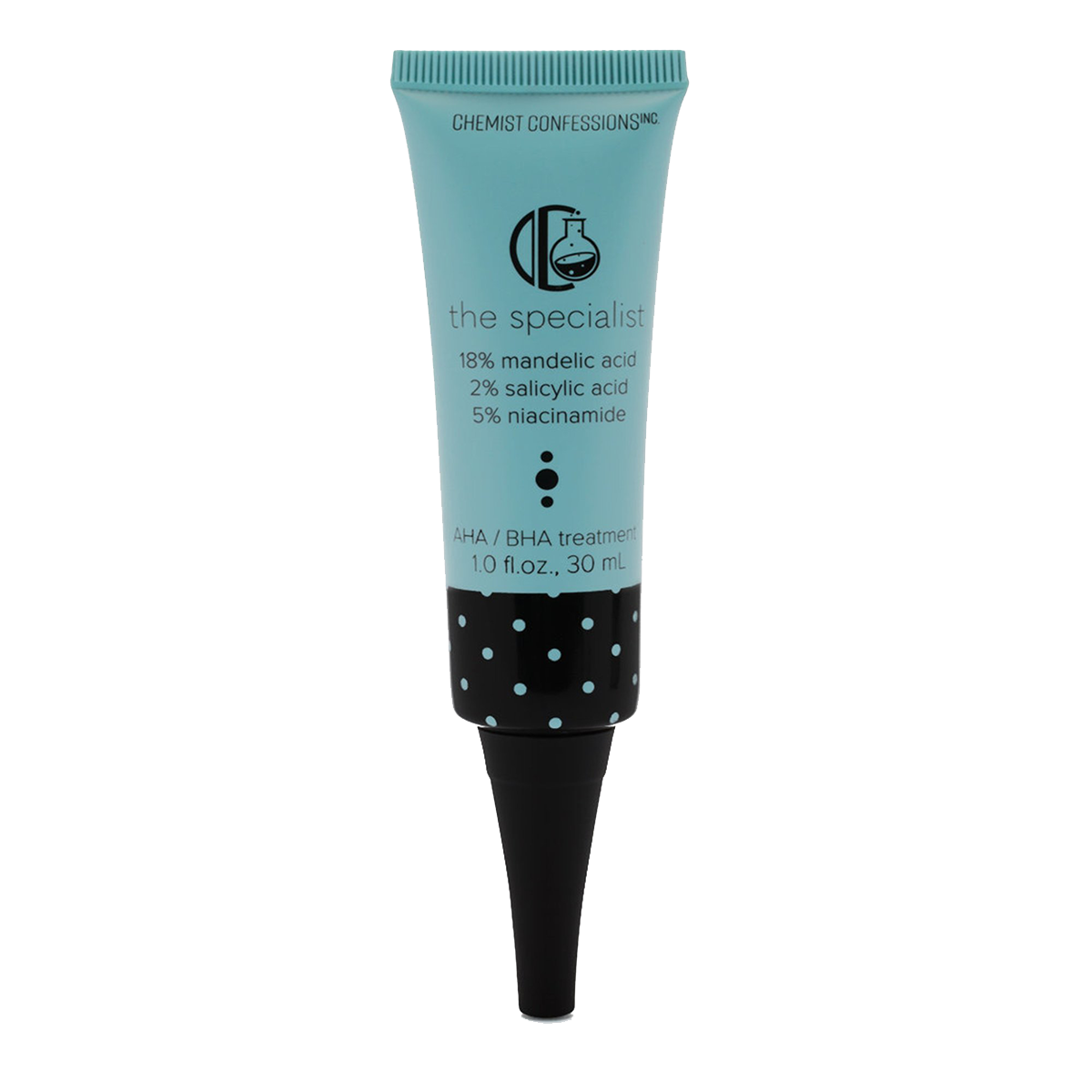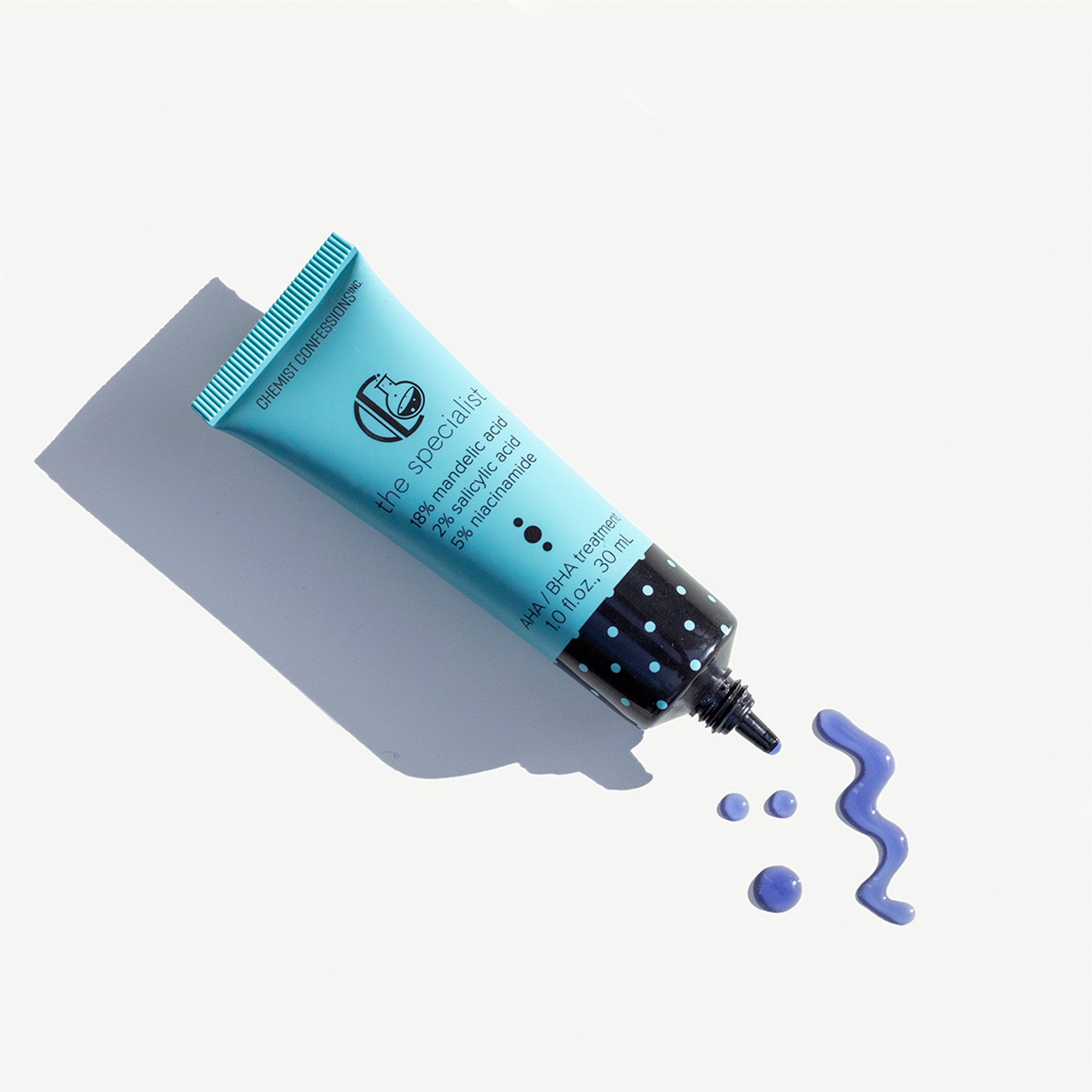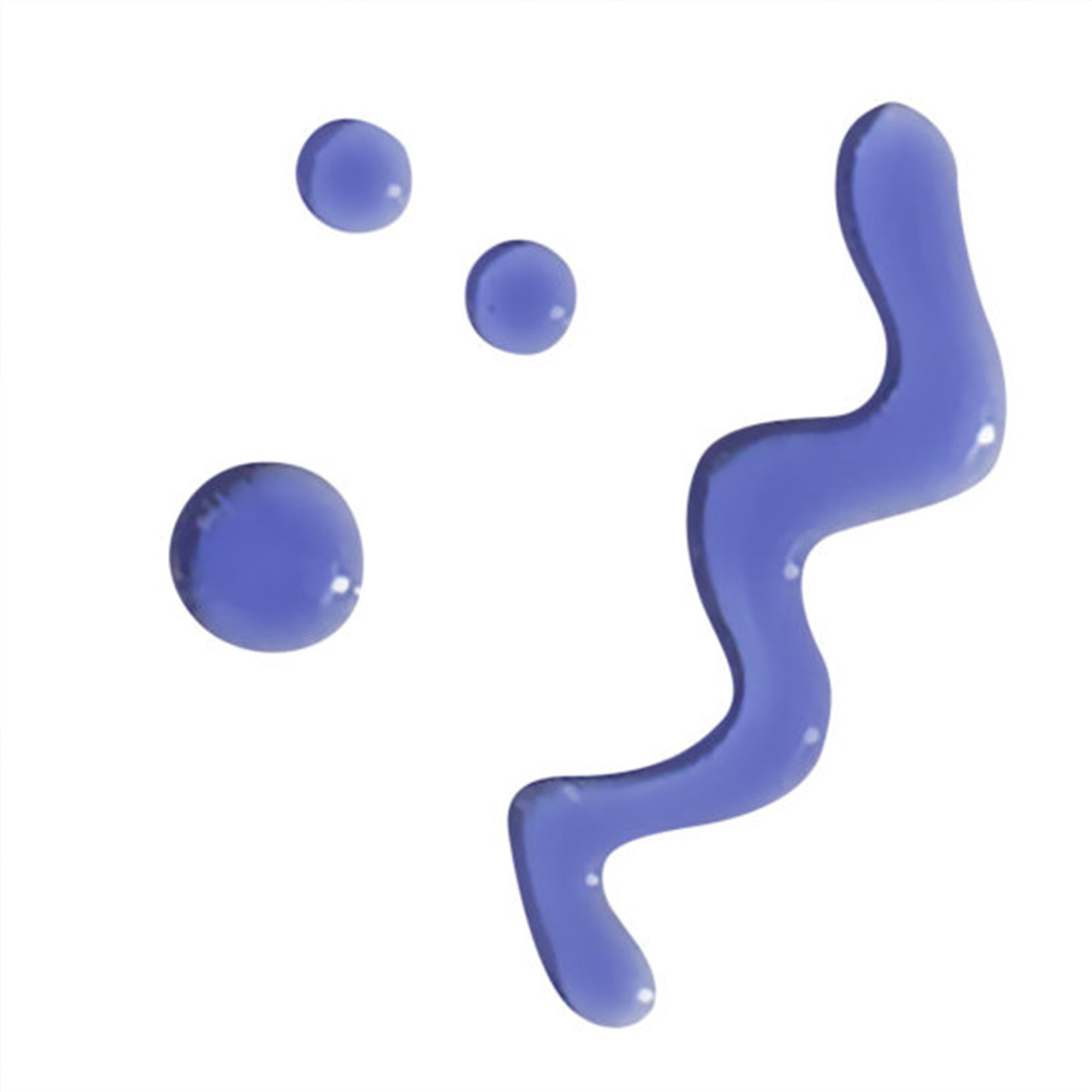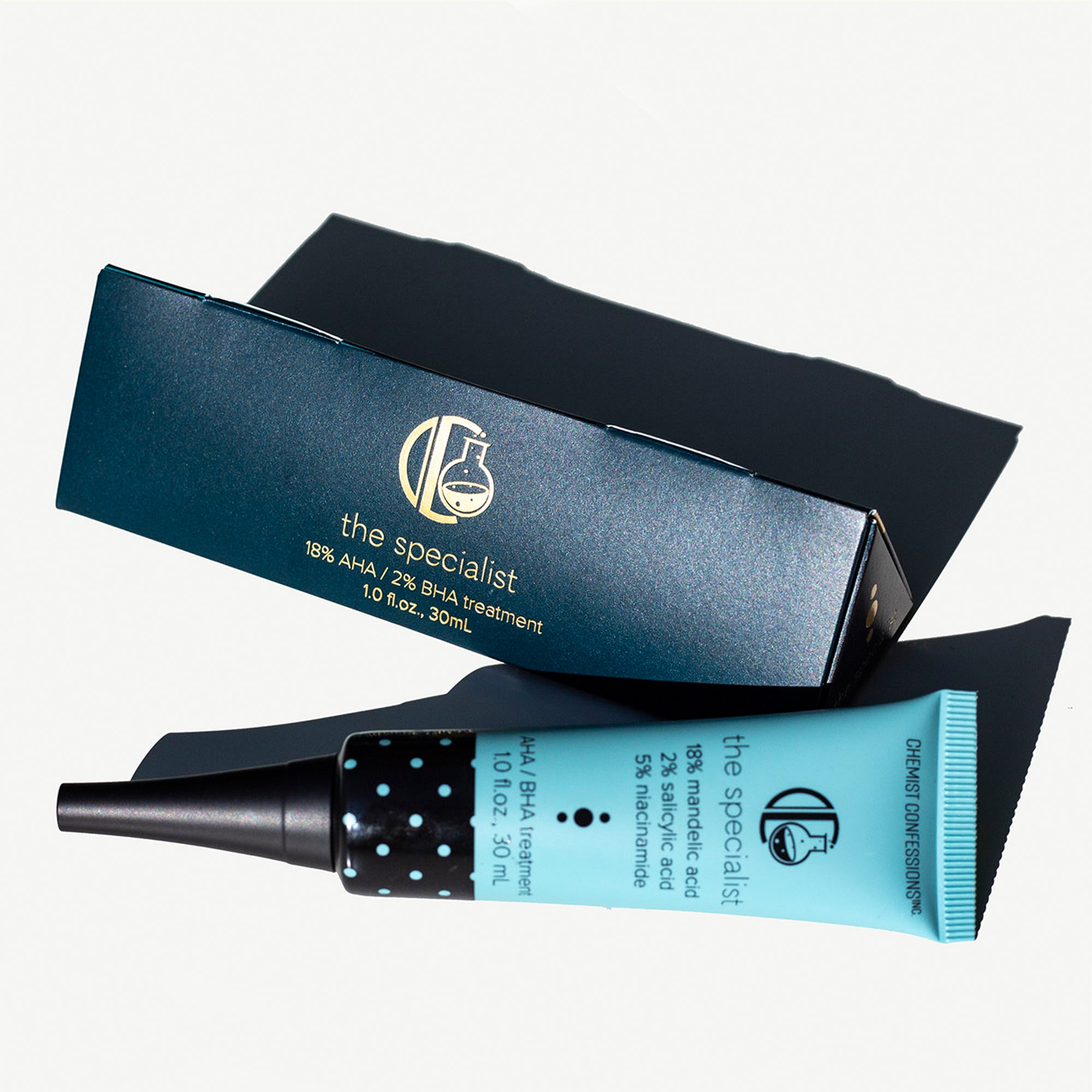 "Protect Your Skin And It Will Protect You Back"
Know Our Purposes
Science Driven

Research papers empower our cosmetic science knowledge. To find you the best products, we value facts over myths. We don't trust how beautiful an advertisement looks. We go directly to read the ingredient list.

Powerful lngredients

We partner with honest and transparent brands. Every product we carry for you contains effective ingredients in optimal concentrations the skin needs, nothing it doesn't.

Fragrance Free

With over 300 products here, not even 1 contains fragrance. We approve a product because it contains good ingredients. and bypass a product because it contains irritating agents.